Palm Desert Custody and Visitation Lawyers | Expert La Quinta Family Law Attorneys
Child Custody in California Overview
See our Many Blog Articles on Child Custody in Riverside County
What is Physical Custody?
Physical custody has to do with the time that a child is under the supervision and control of a parent, and extends to activities outside the home such as school, daycare, or activities. The term expresses who's "watch" it is. Contrary to what most people assume, the labels that attach to different concepts of custody and visitation do not of themselves establish the practical day-to-day timeshare. For instance, agreeing to joint physical custody does not of itself mean that the kids are with one parent one-half the time. It is not uncommon for the court to award joint physical custody, but the lower time parent may only have the children on alternating weekends.
"Sole physical custody" means that a child is residing with only one of the two parents, and so is under their exclusive control. The other parent then receives "visitation."

"Joint physical custody" means that each of the parents has significant periods of physical custodial time.
Parents may reach an agreement about child custody and visitation outside the adversarial court process, but often one or both is unwilling to compromise or take responsibility for issues or behaviors that place children at risk. Each party may fail to consider what it feels like to be a child stuck in the middle, with zero power to ensure a continuing relationship with both parents. Often what underlies the problem is fear: Mothers sometimes fear that Fathers are not adequately trained to be primary parents, or believe that their child support will be reduced if they share the children more. Fathers frequently complain that Mothers are being overly protective, and that they are being taken advantage of financially, and they may ask for more time to limit their support liability. We urge you both to be flexible. It is possible to get the needs of both sides met.

California Family Code section 3010 provides that both parents "are equally entitled to the custody of the child."
---
What is Legal Custody?
Family Code section 3020 expresses California public policy that to (a) "assure the health, safety, and welfare of children" and (b) to "assure that children have frequent and continuing contact with both parents after the parents have separated or dissolved their marriage, or ended their relationship, and to encourage parents to share the rights and responsibilities of child rearing in order to effect this policy, except where the contact would not be in the best interests of the child,..."
Family Code section 3003 describes "joint legal custody." It involves the right, but not always the obligation, for parents to share information and make decisions affecting children jointly.
---
What Does Best Interests Mean?
Family Code section 3011
lists some best interest factors that courts are required to consider, but best interests depend on the circumstances of each family's situation and is a subjective concept for the court - meaning different judges weigh factors differently depending upon how the issues are presented.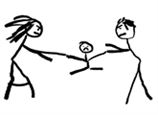 When parents cannot agree as in cases of high conflict break ups, the court will make a custody decision based upon evidence of what is in the child's best interest. A history of domestic violence or habitual substance or alcohol abuse can create presumptions against one party of the other that may affect whether the custody awarded is joint or sole.
Situations arise where a parent wants to relocate or move away with children. This can drastically affect the non-moving parent's timeshare, and increase expenses related to visitation with children.
There are two sides to every parental break up. Managing clients and the emotional distress they reasonably suffer is a tall order. Overcoming hostile or suspicious litigants requires sensitivity. Presenting the best interests of children to the court in a compelling fashion takes skill.
When custody and visitation cases must be litigated, Thurman W. Arnold manages his cases and clients in a mature and discriminating fashion. This informs judicial outcomes and opens the door to allowing people to make decisions based not on emotional reactivity, but instead upon all relevant considerations.
Palm Springs custody lawyer Thurman W. Arnold has over three decades of experience in family law, representing clients throughout the Coachella Valley in Indio custody cases and visitation disputes. He is a Certified Family Law Specialist and a Fellow of the American Academy of Matrimonial Lawyers.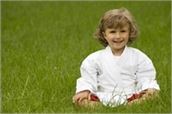 Contact Palm Springs child custody lawyers Arnold, Peterson & Criste
to learn more about how our firm can help you.
We represent clients in custody matters who live in Palm Desert, La Quinta, Cathedral City, Rancho Mirage, Palm Springs, Indio, Blythe, Joshua Tree, Yucca Valley, and Indian Wells.
Testimonials & Endorsements
- Josh Arguijo

- Jeff Jones

- Marc Rittner

- Donika McKelvie

- Vincent Hall