Domestic Violence Specialists Palm Desert | Cathedral City | Indio, CA
Intimate Partner Abuse in the Desert Cities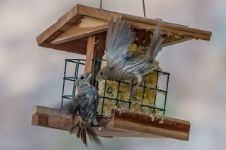 Statistics demonstrate that 95% of reported abusive partnership violence involve assaults by spouses or ex-spouses who are men. According to the FBI, only 10% of spousal abuse cases are reported to authorities. 25% of all murders occur within families. According to the national Institute of Mental Health physical violence occurs between family members more often than it occurs between other individuals or in any settings other than war and riots. Alcohol and substance abuse is frequently a factor.
Therapists and legal professionals know from studies that men who batter often have low self esteem. There are different mixes of familiar patterns. For instance, he probably believes in masculine stereotypes. Maybe he blames others for their actions. He may be pathologically jealous. He can present dual personalities. He sometimes has severe stress reactions and escapes them through drinking and battering. Perhaps he uses sex to enhance self-esteem. He might be bi-sexual. He doesn't believe his negative behavior should have consequences. He has low frustration tolerances, poor impulse control, and an explosive temper. He tends to be emotionally dependent upon his wife or children. He frequently already has a history of domestic violence. He may threaten children or pets as a control mechanism. Sometimes these men were abused as children, or witnessed their mother or father being abused. Or is likely dissatisfied by his job, or unemployed, and feels inadequate. Such men typically maintain close contact with their own families.

Women who are battered frequently have low self esteem. They believe myths about battering relationships. They believe in family unit and prescribed stereotypes of the female sex roles, as in a traditional home. They often accept responsibility for the batterer's actions. If she feels anger and fear, she may have a sense of guilt that causes her to deny it. She may have a passive personality. She often has severe stress reactions, with psychosocial complaints. She may use sex to establish intimacy. She often believes no one can help her, and is economically and emotionally dependent upon her partner. She usually has some family history of domestic violence. She may accept violence in the hope that she can get her husband or partner to change: Or, she may believe she provoked the anger. She gives in to her partner's demands to protect children and pets. She may have been physically or sexually abused as a child or she witnessed violence in her home. She is often employed, but she is not allowed to control finances. And, she loses contact with her family due to embarrassment or isolation, though she may maintain contact with her husband's mother. Sooner or later she suffers from post traumatic stress disorders and is likely to abuse drugs or alcohol; indeed, she may find herself incarcerated for drug related offense.
Does any of this behavior sound familiar?
Some forms of domestic violence and abuse are painfully obvious, such as the bruising and bleeding that occurs from physical striking, pushing, kicking and strangling. But "DV" is expressed in a variety of ways which at their core are all about control.

Arnold, Peterson & Criste abhors domestic violence in any form. We are passionately dedicated to protecting the physical and the emotional safety of not only our own clients but their family members and children. Yet, we recognize that domestic violence allegations may be trumped up to gain strategic advantage in a small percentage of family law cases.
---
DV Restraining Orders Protect Against Many Forms of Abuse
California Family Courts are empowered to prohibit the following activities by enjoining them through domestic violence restraining orders: "molesting, attacking, striking, threatening, sexually assaulting, battering, harassing, telephoning, including but not limited to, annoying telephone calls ..., destroying personal property, contacting either directly or indirectly, by mail or otherwise, coming within a specified distance of, or disturbing the peace of the other party, and, in the discretion of the court, on a showing a good cause, of other named family, or household members." FC section 6320. Hence, each of these activities may constitute the abuse that justifies the issuance of emergency and permanent orders. There is no requirement of a injury and many times the abuse is not that direct. Often the abuser abuses indirectly and destroys personal property, or isolates or humiliates a victim, or controls his or her access to friends, relatives, or finances.
---
Exclusive Use of Dwelling: Kick-out Orders
Courts will, upon request and sufficient evidence, issue orders excluding a party from the family dwelling, no matter who is the named tenant, or holds title to a home, or when the residence was leased or acquired. See Family Code sections 6321 and 6340.
Being a victim of domestic violence may entitle you to actually terminate your lease with a landlord under certain circumstances if you need to move for safety reasons. Here is a link to Here is a link California Code of Civil Procedure section 1946.7, which tells you what is required to accomplish this.
---
Child Custody and Visitation Orders in Domestic Violence Cases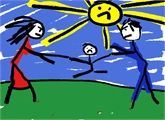 Where children are involved and restraining orders do issue, a rebuttable presumption arises under Family Code section 3044 that a joint physical or legal custody for the perpetrator would be detrimental to the best interests of the child. Any visitation to such a person must be limited, specific, and often supervised.
At the same time, Courts recognize that some parents seeking a strategic advantage may falsely claim, or exaggerate, domestic violence to gain custody advantages. This is why contested evidentiary hearings with cross-examination of witnesses and the proper introduction of evidence is so critical. For those of you who won't or can't hire a lawyer, please browse this site using my on-board search engine to find other helpful information.
The Arnold Law Office has no interest in domestic violence agendas: We want to pursue the truth and assure that our clients are protected from true danger, or saved from false allegations. The consequences of such orders can ruin lives, including those of children and innocent parents, both economically and emotionally. We will vigorously challenge the evidence to test the truth of the complaining party.
Sometimes it also happens that we find ourselves with clients who may have reacted badly under severe stress. We can guide those in a manner that supports them in overcoming the root causes of their anger, so that they may quickly resume their roles as parents.
---
Spousal or Partner Support And Attorney Fees in DV Proceedings
Family Courts almost always issue spousal and child support awards, and often orders for attorney fees (Family Code section 6344), when legally proper and the evidence justifies it.
In fact, courts often refuse to award spousal support in favor of domestic violence perpetrators (Family Code section 4325). If you are falsely accused of DV and are at risk of losing your right to spousal support, you had better get a competent family law attorney - a certified family law specialist - on board.
At the law firm of Arnold, Peterson & Criste, we protect victims of domestic violence. And, we want to defend people innocently accused of domestic violence.
---
We serve and defend domestic violence clients within the desert cities of
Palm Springs, La Quinta, Rancho Mirage, Joshua Tree,Twenty-Nine Palms, Cathedral City, Indio, Desert Hot Springs,Yucca Valley, and Riverside!
Testimonials & Endorsements
- Josh Arguijo

- Jeff Jones

- Marc Rittner

- Donika McKelvie

- Vincent Hall